Soin des ongles au Nail Kitchen pour des mains de fée
PAR : Johanna Fritz |
2 mars 2016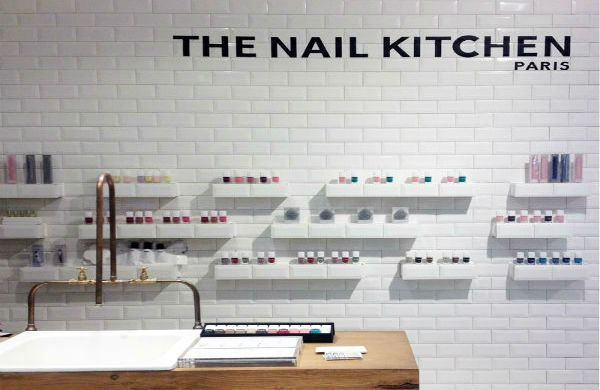 Vous n'avez pas eu le temps de vous faire une manucure digne de ce nom depuis bien trop longtemps malgré les flacons de vernis qui trônent comme des bonbons dans votre salle de bains ? Il est temps de remédier à ça et de s'accorder un moment pour soi ! C'est toute la promesse du premier lieu dont je vais vous parler.
Le concept du bar à ongles à Paris s'est multiplié pour soigner nos mains éprouvées et nous permettre une petite demi-heure de bonheur. Mais personnellement, je trouve que les manucures sont souvent bâclées, réalisées trop rapidement et à la chaîne.
The Nail Kitchen, le très beau et design bar à ongles situé au rez-de-chaussée du BHV/Marais.
Un carrelage blanc, que l'on connaît comme celui dit du « métro », un comptoir bar et un lavabo au design ultra clean, et surtout la promesse d'une manucure nickel avec les vernis aux couleurs chics Kure Bazaar, aux ingrédients à 85% d'origine naturelle, posés sur des mains et ongles (p)réparés par les produits soins japonais de la marque Uka. Tentée, je suis donc allée la tester, et je ne fus pas déçue : des mains adoucies et des ongles irréprochables, sans compter une pose de vernis qui a tenu une semaine !
C'est vraiment un endroit que je vous conseille si vous cherchez un lieu pour vous détendre et ressortir avec ce si joli détail qu'est une manucure soignée.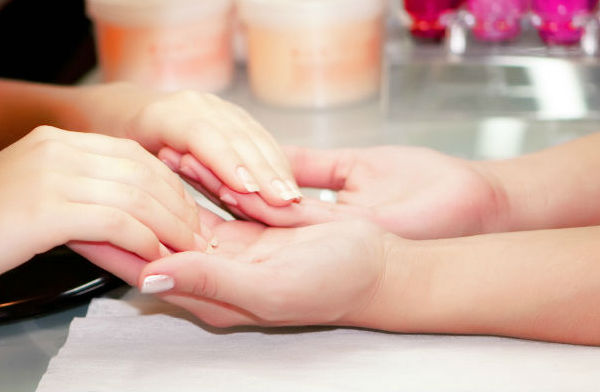 Tarifs à partir de 28€ la manucure, The Nail Kitchen Paris à l'espace Beauté du BHV Marais, 52 rue de Rivoli, 75004 Paris, sur rendez-vous au 06 81 26 24 95 .
Et pour prolonger cet effet jolies mains, et comme vos vernis à la maison doivent faire la tête suite à l'abandon qu'ils ont subi, je vous conseille d'aller faire le plein de vernis colorés au très ludique distributeur Nailmatic.
63 couleurs disponibles au tout petit prix de 5€, un produit made in France et disponible dans de drôles de distributeurs sur lesquels est apposé un nuancier qui vous aidera à choisir la nuance qui sortira de la machine. De quoi avoir envie d'entretenir la belle manucure que vous venez de vous faire réaliser !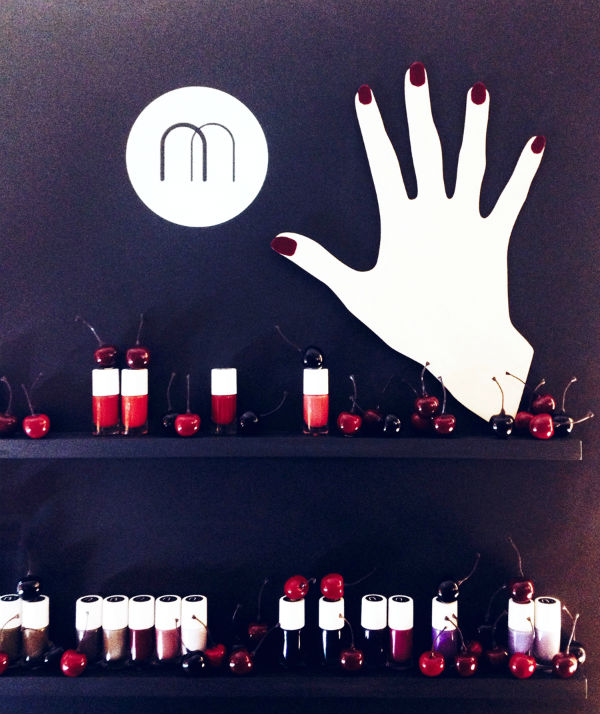 Distributeurs Nailmatic aux :
BHV Marais : 52 rue de Rivoli, 75004 Paris
Citadium : 50-56 rue de Caumartin, 75009 Paris
Le 66 : 66 rue des Champs Elysées, 75008 Paris
ARTICLES SIMILAIRES BEAUTE A PARIS :
- Envie d'une manucure ? Notre sélection de bars à ongles parisiens !
- Benefit à Paris : maquillage et beauté sans prétention !
- Oh My Cream !, le concept-store beauté qui a tout compris
>Toutes les bonnes adresses Mode et Beauté de nos blogueuses à Paris
PAR : Johanna Fritz
Lire l'interview de Johanna
Mzelle-Fraise a ouvert sa maison virtuelle en 2006. Sur son blog, elle nous emmène dans ses virées parisiennes, de Barbès aux Halles, des Batignolles à Jourdain, nous présente en illustration et en photo ses coups de cœur et ses lieux fétiches, ses sorties culturelles et gustatives. Toujours amoureuse de sa ville, elle ne se lasse pas de (re)découvrir Paris et partage avec plaisir une de ses adresses préférées. En 2009, elle est « coup de coeur » dans la catégorie Dessin du magazine Elle.